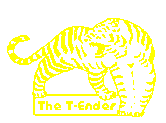 We welcome all contributions to the T-Ender. Please send any material for the site by
email to the address above.

Disclaimer
The views expressed on these pages are not those of Gloucester City A.F.C., its directors or officials, or of any other company mentioned. Neither do they represent the official views of the Gloucester City Supporters' Club or its committee.
While we make every effort to ensure information placed here is accurate we do not accept responsibility for errors that may occour. If you do find a mistake please let us know.

All pictures and material unless otherwise stated are the site's own and is
© www.t-ender.co.uk
All material may be reproduced with permission and appropriately attributed.

City First Team Player Stats 2004-5

The Small Print
All statistics correct for the complete 2004/5 season.
Stats relate to all first team games in the SL Western and League Cup, FA Cup, FA Trophy & Gloshire County Cup.
Excludes abandoned matches, friendly fixtures, reserve and youth team games.
* Means Player left the club during the season
+ Means Player with club on loan basis
Man of the Match taken from T-Ender match reports, of if unavailable, from reports in The Citizen

For full player's career statistics and pen pictures click on player's name on table.