A passionate and combative player who has steadily improved his goal scoring return at Meadow Park before hitting an incredible unprecedented rich vein of striking form in the 2003/4 season. Hosky's 37 goal haul set a new post-war scoring season record for Gloucester City, eclipsing venerated names like Kim Casey, Chris Townsend, Dale Watkins and current coach Karl Bayliss. His 28 league goals earned Hosky the DML Western golden boot but also helped catapult the City side to a well deserved second spot and promotion into the reshaped SL Premier. His robust target play provided the perfect foil for the lightning pace of strike partner Jimmy Cox but Hoskins is also capable of producing that little bit extra special moment.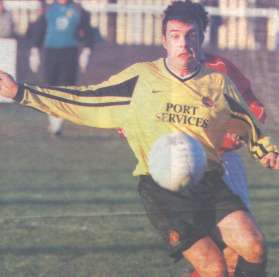 Hosky's record is all the more remarkable as his 2003/4 tally is more than the total he grabbed in all of his previous three campaigns at Meadow Park and beats his previous personal best of 33 goals scored as a brash 18 year-old playing local football for Brockworth. The prolific quantity and consistency of his goals may be new but Hoskins is a popular player who richly deserves the plaudits he's received this season. Hoskins is a classic British centre forward, strong in the air and able to hold off defenders long enough to get away a shot or play in a team mate. His ability to win the high ball and hold onto it makes him a vital pivot point for the faster forward players around him. to hold off challenges while support arrives. Hoskins also surprises many with early shots and chalks up a fair percentage of spectacular goals, not afraid to volley from distance or try an acrobatic effort to get on the score sheet.

His occasional touches of subtlety belie his reputation as a bruising target man - indeed few could claim his record of 14 yellow cards in 2003/4 as a genuine improvement in discipline. Often unfairly penalised by referees but certainly not afraid to mix it with defenders. Hosk has long been highly rated by local coaches, but the vocal skeptics who doubted his ability to score goals at this level will now be looking for hats to eat. In 2001 it was his hard work and encouragement of the younger players around him that earned him the respect of the fans, but once paired with Jimmy Cox in 2002 Hoskins was rewarded by regularly finding the net, something which he has just continued doing with some glee. He also has a happy knack of scoring bundles of goals, demonstrated with a show-stopping second half display against Bilston in March 2002 when he scored four in just over half an hour, and four goals again against Evesham in 2002/3 and Bristol Manor Farm in the 2003/4 FA Cup, plus hatricks against Gresley and Shepshed in 2003.
Hosky first played for Gloucester when assistant manager Tim Harris brought him from Cinderford in 1997. He was rated highly by then City boss Leroy Rosenior, but Hoskins was slightly too raw and saw his season ended prematurely in November '97 against Newport County with a broken left leg sustained by launching into a characteristically psychotic challenge. He was offered a contract on his recovery, but never got back into the first team and headed back to The Causeway. He had seemed content to drift into local football with Brockworth, but Burns saw him as a wasted talent and persuaded him back to Gloucester City, a decision neither can have regretted. Unfortunately Hosky decided to leave City in October 2004 to join former City coach Mike Cook at Cinderford, tempted by the offer of a coaching role back at The Causeway. His sudden departure at a crucial time was unfortunate, but it is his goal scoring feats which will live longest in the memories of City fans. After leaving Cinderford Hosky prolonged his playing career at Hellenic Premier side Shortwood United, coming back to haunt City with the second goal in a 2-0 defeat that put City out of the FA Cup in Spetember 2007.