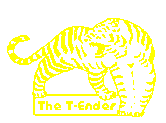 We welcome all contributions to the T-Ender. Please send any material for the site by
email to the address above.

Disclaimer
The views expressed on these pages are not those of Gloucester City A.F.C., its directors or officials, or of any other company mentioned. Neither do they represent the official views of the Gloucester City Supporters' Club or its committee.
While we make every effort to ensure information placed here is accurate we do not accept responsibility for errors that may occour. If you do find a mistake please let us know.

All pictures and material unless otherwise stated are the site's own and is
© www.t-ender.co.uk
All material may be reproduced with permission and appropriately attributed.
Lee Davis

Position:

forward or attacking midfielder

DoB:
Age:
Birthplace:

unknown
20
unknown

City Career
Transfer Details:

Returned in June 2005 for a third spell at City having been released after a short stay with Forest Green Rovers.

City Debut:

v Mangotsfield United (h) SLWD, 26th December '03, Drew 2-2 (as sub).

City Stats

2003/4: 7(7) Apps, 0 Goals
2004/5: 23(9) Apps, 6 Goals
2005/6: 26(6) Apps, 4 Goals
Totals: 56(22) Apps, 10 Goals

Career Club History: Cheltenham Town, Mangotsfield United (loan 03/4), Gloucester City (loan 03/4, 04/5), Forest Green Rovers (4(4)), Gloucester City, Cirencester Town, Mangotsfield United, Bishop's Cleeve
Honours: none known

Pen Pic:

Lee Davis can consider himself to have been more than a little unlucky in his three spells at Gloucester City. As sharp, highly skilled player with an impressive work ethic he seems to fall out of favour for his lack of size and fragile frame as much as for anything he gets wrong on the pitch. Lee has good close control and ball skills which will always have the potential to dazzle players at this level, but his size and slight frame do mean that he will need to work hard on his strength as at times he is unable to force himself on to games and make an impression against the more physical defences. Despite often being far smaller than his opponents Lee is never initimidated and showed a great willingness to work hard and put himself about during matches. Left City most recently in January 2006 having been released by new manager Tim Harris who resumably felt Davis was something of a luxury as City dig in for a relegation fight. He always seems to be played in midfield where he does struggle to make an impression, but both times that Davis had had a chance to play up front he has found the net reasonably consistently. He now deserves someone to give him a real chance to find his feet in a striking position and show what he can do.
Davis progressed through the Ch#*tenham Town football academy under the watchful eye of his father Mike Davis who had been one of the youth coaches at the club. Lee's initial spell at Meadow Park didn't show too much but with the league club covering his wages that didn't matter too much. By his second loan spell he was maturing and impressed with both his attitude and some strong performances, but by now the Whaddon Road outfit had released him and City were forced to release the player due to budget pressures. The decision was made reluctantly as Davis had begun to chip in some vital goals with five in his last six starts for City at the end of his 2004/5 stay with us. Davis got a chance to taste Conference football with Forest Green Rovers when they took him on in January 2005. The move was doubtless facilitated by his father Mike who was now coaching at The Lawn, and perhaps it was not surprise that when Gary Owers became the new Rovers boss and changed the coaching staff that Lee also found himself following his father out of the door. However Burns seemed delighted to get another chance at working with the youngster, now at City for a third time. Davis grabbed goals in the opening few weeks of the season but then found himself playing in midfield, and inexplicably found Addis partnering striker Luke Corbett despite signs that Davis could have struck up a productive partnership with him when the pair briefly played up front on Corbett's debut at Mangotsfield.
| | |
| --- | --- |
| | |
| | Sponsor your favourite current City player for £50: Contact Trevor King. |