Wilko was a classic ball-winning central midfielder who provided a hub for the City side during six of the most turbulent and difficult seasons in the club's history, seasons when Wilko's grit and unfussy industry typified the spirit of the battling sides put together by Chris Burns and Tim Harris at the time. Wilkinson joined us as part of Chris Burns' initial in-take when he took over the City reigns in July 2001, making the vast step up from County League Brockworth at a time the club could barely afford to cover player's expenses. He quickly became a fixture of the side, adding stability and teeth to what back then seemed a rather light weight side. His role was always mainly midfield tackling and disruption, but he played a central part in the side's FA Trophy quarter-final run, our promotion from the Western Division and our survival in the SLP as we scrapped against relegation. Despite often being the player on the line to hack the ball clear Wilko also found the opposition net with astonishing regularity, netting 45 goals in his 248 City appearances, and finishing the 2004-05 first season back in the SLP as the side's top scorer with 12. Many of those goals were created by late runs of deceptively slow pace, but also included some unforgettable screamers such as that at Merthyr and the crucial winner at Aylesbury in April 2006.
As Tim Harris' gradual rebuilding of the squad brought together a squad intended to compete at the top end of the SLP it was clear Wilkinson's time at the club was comming to an end. Sadly loyalty and enthusiasm alone could no longer command a place in the City squad, but the fact that Wilko was one of those players available at short notice to try and rescue stock as Meadow Park flooded in July 2007 also deserves to remembered. To Wilko's great credit he was a player who never failed to give of his best, and made the very best of talents that were never quite as limited as some of his detractors liked to believe. A whole-hearted Tiger, and a City legend who will be fondly remembered wherever the T-End ends up being re-sited. The midfilder moved on to Southern League Midland Division neighbours Cinderford Town, joining a seeming ever expanding collection of former City veterans at The Cauesway.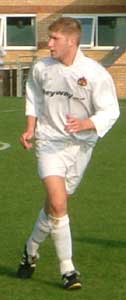 Wilkinson was signed from local football when still a teenager but quickly adapted well to life in the Southern League to become a proven and respected campaigner at that level. An unfussy and often unspectacular midfield player but one whose hard graft and ability had made him the engine room of the City side. As well as his unsung work closing down the opposition and breaking up play he also has the happy knack of stealing into the box to grab vital goals. He began his career in the City youth team but had then headed into the County League with Brockworth before returning to Meadow Park following a call from former youth team boss Chris Burns. His influence as a holding midfielder has grown with his experience and he's come along way from the rather gauche youth initially drafted in partly because Burns was having difficulty forming a side. His sheer work-rate has won over fans who at times doubted his ability, at least until it was noticed that his absence led to poor results and it couldn't simply be coincidence. Laboured under the fans nickname of Prince Harry for his likeness to the third in line to the throne, but seemed more capable of holding his drink and delivering useful contributions.
Wilko was a real favourite of former City boss Chris Burns who famously compared his low-key effectiveness to Nicky Butt, even though his goalscoring is more in the manner of Paul Scholes. Wilko remained a key figure in Tim Harris' plans when he took over at City and smashed in a never to be forgotten crucial and spectacular winner at Aylesbury during the club's escape from relegation fears in 2006. His role in that succesful run was even more remarkable when it was realised that the 'niggling ache' he'd been putting up with was a ruptured achilles that required an operation to fix.