Bath quickly made his reputation as one of the best keepers in the Southern League and was one of the most reliable performers in the City side during a period of more than five years spent between the sticks at Meadow Park. Helped the club to many memorable victories, with highlights including a run to the FA Trophy quarter-finals, promotion and several succesful relegation battles. Sadly Bath seemed to carry the can as the City side began to ship goals and with manager Tim Harris proactively seeking other goalkeeping options Matt opted to cite growing work and family commitments to make a dignified exit from the club he served so well. The fans will be sad at his departure and wish him well in a career that, slightly sadly, seems set to be continued with former City boss Chris Burns at Cinderford Town.
Bath made an instant impact at Meadow Park when he arrived in November 2001 from County League side Whitminster and thoroughly deserved his Supporter's Player of the Year award in his first season of Southern League football. Bath made his reputation with a string of top notch reflex stops but possibly impressed even more with his consistency and the often unappreciated ability to do the simple things well and without fuss. Matt is quick off his line and often puts himself in the right place to gather the ball without having to resort to full length dives - although he has proved more than handy at those too.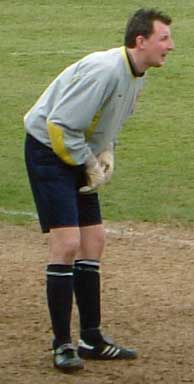 Matt Bath seemed to never quite recover his confidence or that of his manager having been dropped for the first time since arriving at Meadow Park after City's dreadful capitulation to exit the FA Cup in a 3-2 defeat at Eastleigh in September 2006. Boss Tim Harris, himself a former City keeper, reportedly blamed Bath for failing to push out his defence and dominate his penalty area. It says much about Matt that his response was to bide his time and when his time came to reclaim his shirt he did so in memorable style. His return to the side was in the FA Trophy as the loan keeper who'd been brought in on loan was unavailable - Bath made several good saves in the tie against Tiverton and then in the replay emerged as the hero, saving the first two spot kicks as City won a nailbiting penalty shoot-out. That showed the keeper's character, but the writing seemed to be on the wall for Bath by January 2007 when a string of heavy defeats saw Tim Harris publicly courting other goakeepers.
Tim Harris didn't seem to have any initial doubts about Matt - his first move as new manager in January 2006 was to persuade Matt to sign a contract extension to keep him with City until May 2007. The keeper immediately repaid that faith playing a pivotal part in the club's remarkable escape from relegation - including our best defensive record since the club moved to Meadow Park when the team went more than five games without conceeding a goal. Bath well deserved his reputation as one of the best keeper's playing at our level of the game and one of City's best players over the last few years. He won countless games for City with some quite incredible saves, and although he has endured some dips in form he saved City on so many occasions he was forgiven the odd mistake. Perhaps his most embarassing flaw was an occasional over-confidence in his positioning and knowing when shots are going wide, normally OK as he's normally right, but it doesn't half look bad on the odd occasion when the ball flies into the net as your keeper stands nonchalantly to one side. Burns and Harris both encouraged Bath to be more vocal, but he was always a calm, quiet gentle player who preferred to let his keeping do the talking. In August 2005 Matt Bath became one of a select number of keepers to score from open play, sending a huge kick bouncing into the King's Lynn net. In doing so he became the first City keeper in living memory to find the opposition net, but was also the club's leading scorer for several weeks as the season got off to a slow start!
Bath had long been highly rated in local football but had to wait six seasons for a club in a higher division to finally give him an opportunity to show his ability. When Matt was eventually signed by the Tigers in November 2001 he was already City's fifth goalkeeper of that season, but he quickly made the position his own with some confident handling and impressive saves. His move had initially been on a trial basis, but his form was so assured that then City boss Chris Burns knew he'd solved his keeper problem and did not hesitate in asking him to sign permanantly. Bath, who works locally as an engineer, has been a vital factor in City's steady improvement over recent campaigns and played a pivotal role in both our FA Trophy run of 2002/3 and our promotion season of 2003/4. Matt has previously been rumoured to have impressed scouts from local League sides and was strongly linked to Division 3 Doncaster Rovers in January 2004, he has also shown great loyalty in rejecting repeated overtures from other local clubs including Cinderford and Cirencester. It is sometimes difficult to remember that Bath had to make such a huge step up from playing in the County League for Whitminster.