Has been persuaded to take a drop in money to return to Gloucester City from league rivals Yate Town for a fourth spell with the club he used to watch as a boy. Cox will need time to settle and regain full fitness but his scoring record at the club is such that his presence in the squad will provide a lift to fans. Tim Harris must be delighted to have bolstered his striking options after news that Jody Bevan is out for the season, ironically a player Cox previously partnered up front at Weston-super-Mare. Knee injuries took the edge off Cox's formidable pace in his last season with City, but fans will be hoping his fitness is now returning and that he can really write his name in the club's history by being the first player in more than two decades to reach the milestone of 100 goals for the club. Despite his sometimes tempestuous behaviour Cox is an undoubted talent, his return brings some scorching pace into City's attack as well as the promise of goals. His runs are often direct and can split any defence and Cox is also a regular poacher in the penalty area. Cox is also maturing as a player, now showing more awareness of the players around him and the fear his pace causes creates space for others. A player whose presence always gives City a chance against any side, as reflected in the buzz around Meadow Park every time he picks up the ball.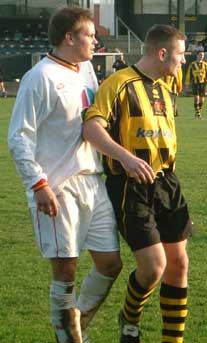 His £5,000 transfer from Weston in August 2002 was a curious one, and something of a coup for struggling City who had to finance the deal through personal funding from chairman Colin Gardner and the player's father - City director Daryl Cox. Under the bizarre terms of the move he started the season with Weston "to allow Weston time to find a replacement" and then his long awaited debut was marred by a red card for dissent. The rest of the season saw some fantastic goals, but mixed fortunes, his four in a game destroyed Solihull Borough but was then marred by a 'late night' arm injury caused by a fall through a city centre shop window as he celebrated. He recovered to play a key role in City's Trophy run as his pace helped dismantle Conference side Woking before hitting three in the two ties against further Conference opposition in Southport, helped by the lucky arm bandage protecting his now delicate arm tendons.
That form won him many admirers with Kidderminster Harriers and QPR both interested, and he rejected a short-term offer from Kiddie in March 2003. A further test to his loyalty came in July 2003 with an offer from Conference neighbours Forest Green leading to an expectation that Cox would leave. However he re-stated his commitment to the Tigers and a few weeks later signed a two-year contract, much to the jubilation of all City fans. Cox played a central role in the Western Division promotion campaign of 2003/04 but suffered a serious knee ligament injury at the tail end of that season andat that time he seemed to lack the full commitment and enthusiasm to get back to full fitness. In the summer of 2005 Cox left the club to travel in Australia, and on his return to the country found City's financial restrictions prevented an immediate place at Meadow Park. Restarted his career with Yate Town where there have been signs Cox was starting to refind his goal touch.

Cox began his career in local football before spending three seasons in the League with Luton Town. Returned to City and scored consistently in the SL Western, earning the Supporters Player of the Year award in 2001. However he left for SL Western rivals Weston-super-Mare in summer 2001 where he continued his goalscoring record and rejected the chance of a £20,000 move to Bradford City. Became a key target in Chris Burn's search for a striker in August 2002 and ultimately Cox always seemed destined to return to his home club where he used to watch boyhood heroes Lance Morrison and Wayne Noble from the T-End. Cox's form in 2000/1 had previously attracted the attention of several league clubs including Bournemouth and Wycombe, but ultimately an aversion to driving and a love of home seems to have put him off a move back to League football.