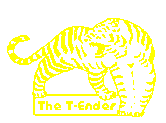 We welcome all contributions to the T-Ender. Please send any material for the site by
email to the address above.

Disclaimer
The views expressed on these pages are not those of Gloucester City A.F.C., its directors or officials, or of any other company mentioned. Neither do they represent the official views of the Gloucester City Supporters' Club or its committee.
While we make every effort to ensure information placed here is accurate we do not accept responsibility for errors that may occour. If you do find a mistake please let us know.

All pictures and material unless otherwise stated are the site's own and is
© www.t-ender.co.uk
All material may be reproduced with permission and appropriately attributed.
Chris Burns

Position:

player-manager
central defender or midfield

DoB:
Age:
Birthplace:

9th November 1967
38
Manchester

City Career
Transfer Details:

Returned to City as player-manager from Forest Green Rovers in June 2001.

City Debut:

v. Nuneaton Borough (h) SLPD, 12th October '96, Won 1-0.

City Stats

Playing Record
1996/7: 45(1) Apps, 5 Goals
1997/8: 59 Apps, 10 Goals
1998/9: 47 Apps, 8 Goals
2001/2: 37(2) Apps, 6 Goals
2002/3: 45(2) Apps, 10 Goals
2003/4: 37(3) Apps, 1 Goal
2004/5: 30(4) Apps, 2 Goals
2005/6: 16(1) Apps, 0 Goals
Totals: 316(13) Apps, 42 Goals

City Managerial Record:
P-231, W-93, D-56, L-81, Gls-361, Ag'st-337.
Win Rate - (40.3%)
Honours: January 2003, April 2004 SL Western Manager of the Month.
SL Western Runners-Up 2003/4

Career Club History: Brockworth, Sharpness, Ch@#tenham Town, Portsmouth(90(8)-10), Swansea City (loan(4)), Bournemouth (loan(14(1)-1)), Swansea City (5), Northampton Town (66(1)-9), Gloucester City, Forest Green Rovers, Gloucester City (player-manager), Cinderford Town (player-manager), Torrevieja (Spain)
Honours: (as player) FA Cup Semis 91/2, FA Trophy Semis 96/7, Southern League XI 97/8, 98/9, Forest Green PoY 99/00, FA Trophy Finalist 99/0, 00/1, GFA XI 01/2

Pen Pic:

City's player -manager who is slowly easing into a more managerial role and gradually becoming a less vital part of the playing squad. Burns returned to City in June 2001 to take on the player-manager's role after Tommy Callinan resigned due to the continuing restrictions on the player-budget. It was a brave move as most of the previous season's side had left and Burns has refashioned an excellent team from youth players and local lads, initially on a shoestring budget when it seemed he was being set up to fail. The finances have improved a little now and he has been able to add more quality to the side. Burns is generally felt to have done an excellent job with a 5th place finish in 2002/3 and a place in the FA trophy quarter-final in the same season, a record for a club at our level in the non-league pyramid.


On his day Chris Burns can still be an awesome player in the DML Western Division, with the skill to slice defences with one inch perfect pass. Much as Burnsie seems keen to play further up the pitch it would seem age is thwarting his ability to dictate play for the whole game from midfield. Now he looks at his most effective when playing in the middle of a back three where his reading of the game helps him stifle threats before they materialise.
Burns had already shown great management promise when coach of City's youth team in 1998/99 when many of his young charges progressed to the first team squad, several still in the side and having now played in excess of 100 City games.
Burns is a great motivator who can be seen helping and advising his players throughout the match, players like Smith and Webb have noticeably improved under his tutelage. His contacts at both a professional and local level have also assisted in a steady influx of local talent to the club since his arrival. The impact of his time at City finally got some recognition with the DML Western manager of the month award for January 2003. His achievements in building the squad led to Burns accepting the offer of a 5 year contract in April 2003.

Burns had left City for Forest Green in May 1999 after a financial falling-out, but all that has been buried as ancient history now he's back. Earlier in his career Burns spent three seasons as a key player for City, adding professional experience, frightening commitment and a sweet left foot central to the City midfield. Burns was capable of playing to a standard that devastated non-league defences, with his form instrumental to the 1997 FA Trophy run and the maintenance of respectability in the seasons that followed.

Burns left local football at Ch@#tenham when bought for £25,000 by Portsmouth where he played with John Beresford and Darren Anderton in a side only denied a Wembley Cup final on penalties by Liverpool. This previous disappointment must have made City's Trophy semi-final replay defeat against Dagenham all the harder to bear. Eventually quit professional football with Northampton at only 28, preferring to be closer to his Brockworth home. His signing was a real coup for Leroy Rosenior, especially considering the competition from other local clubs including his old team Ch@*tenham. On his arrival he seemed short of match fitness and many fans doubted his commitment to a semi-pro side, but after a few months and some heated but effective displays such doubts were thoroughly dismissed.

Throughout that 98/9 season he was the subject of overtures from Conference neighbours Forest Green, including a £15,000 bid rejected by the City board. In retrospect this was a loss of valuable income as Burns took City to an FA tribunal over wages owed which the club insisted he had received as an advance loan. Burns won the hearing and headed to Forest Green anyway, going on to appear in two FA Trophy finals and win their player of the year award before making his return to City.
| | |
| --- | --- |
| | |
| | Sponsor your favourite current City player for £50: Contact Trevor King. |