A physically powerful central defender who is now really beginning to show a return to form after several seasons hit by a string of injuries that seemed to leave his playing career in serious jeapordy. His determination in fighting his way back to fitness and then his committed displays have made him a favourite of City fans. Lyndon is strong in the air and rarely second to a ball that threatens his defensive line, he isn't always the quickest player - but that rearely matters as few strikers get chance to turn him. His aerial strength also makes him a real threat at set-piece attacks and his three goals this season already make it his most prolific in City colours.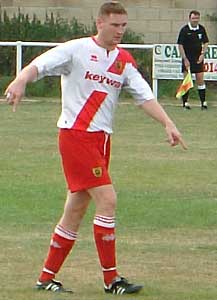 Lyndon's tale is a real history of battling injuries and hurdles which could easily have prevented him ever playing a first team game for the club. He began his career in the City youth team, but never made it into the first team and had to head for Witney Town to get a taste of Southern League football. Then had a short spell with Trowbridge before joining Cinderford Town where he was club captain, building a fearsome reputation as a physical and awkward centre-back. That made him a target for several clubs and in 2002 Chris Burns secured his return to Meadow Park.
Lyndon had a nightmare start to his time at City, picking up a mystery injury to his right knee only a few minutes into his first appearance in a City shirt during a pre-season friendly at Brockworth. The first diagnosis suggested cruciate ligament damage, eventually confirmed after a second more hopeful diagnosis was eventually disproved. Tomkins had surgery in early January 2003 and the operation went well, but by the time he was back in training a year after the original injury budget constraints saw him released without playing a first team match. Linked back up with Cinderford but further injuries and a change of manager saw him flit through several clubs before regaining his match fitness at Bishop's Cleeve. That saw him finally return to City and make his debut in September 2004, but despite some impressive displays a string of minor injury niggles prevented him getting into his very best form and the writing seemed to be on the wall when new City boss Tim Harris allowed him to go back to Bishop's Cleeve on loan in March 2006. However, injuries to toher players saw him back - and since that point Lyndon hasn't looked back. The start of the 2006/7 has seen him in the best form of his City career and finally recapture that dominant defensive security that won him so many plaudits when at Cinderford.