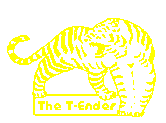 We welcome all contributions to the T-Ender. Please send any material for the site by
email to the address above.

Disclaimer
The views expressed on these pages are not those of Gloucester City A.F.C., its directors or officials, or of any other company mentioned. Neither do they represent the official views of the Gloucester City Supporters' Club or its committee.
While we make every effort to ensure information placed here is accurate we do not accept responsibility for errors that may occour. If you do find a mistake please let us know.

All pictures and material unless otherwise stated are the site's own and is
© www.t-ender.co.uk
All material may be reproduced with permission and appropriately attributed.
Keith Knight

Position:

right wing-back or midfield

DoB:
Age:
Birthplace:
16 February 1969
36
Cheltenham
City Career
Transfer Details:

Joined City for a third spell in June 2003 having left Cirencester Town.

City Debut:

v Witney Town (a) SL Cup 1st Rnd., 16th Oct 1990, Lost 2-1.

City Stats

1990/1: 11(1) Apps, 1 Goal
1994/5: 50(2) Apps, 12 Goals
1995/6: 24(2) Apps, 9 Goals
1996/7: 4(3) Apps, 0 Goals
2003/4: 43(14) Apps, 2 Goals
2004/5: 28(11) Apps, 4 Goals
2005/6: 10(2) Apps, 0 Goals
Totals: 170(35) Apps, 28 Goals

Career Club History: Ch@#tenham Town, Reading (51-12), Gloucester City, Veendam (Netherlands), Trowbridge Town, Yeovil Town (loan), Gloucester City, Ch@#tenham Town (loan 96/7), Halesowen Town, Ch@#tenham Town, Worcester City, Witney Town, Clevedon Town, Swindon Supermarine, Cirencester Town, Gloucester City (player-coach), Cinderford Town (player-coach, then player-manager), Swindon Supermarine
Honours: England u-18s (7 caps), FA XI 93/4, 95/6, SL Premier R-Up 96/7, Gloucestershire Senior Cup 96/7, 98/9, FA Trophy 97/8, Conference Championship 98/9, SL Western R-up 03/4

Pen Pic:

In his prime Keith Knight was one of the most exciting players to have graced Meadow Park as his quick feet and clever darting runs from the right wing created havoc in the opposition penalty box. He's now lost much of his former pace but is still a tricky customer for defences to deal with and links well with Mustoe as they exchange short passes to the general confusion of all around them. Is now more likely to be played at right-back or central midfield but can still make a vital contribution to matches, all be it less frequently over the whole ninety minutes. Is also a useful dead ball technician who can put away free kicks and place precise corners on the heads of his team mates, and defenders leave him space at their peril with Knight delivering some of the most memorable strikes of last season with his fierce dipping drives against Rugby and Hitchin.

After a few seasons drifting around the lower reaches of the Southern League Knight's third spell at Meadow Park has allowed him to win one more promotion honour and to now also begin a move into coaching having been appointed as Burns' assistant in September 2004. His move into management will be interesting to watch as he is doubtless a combative character and was marked down as a disruptive influence in the City dressing room during his previous stint with the club. The move back to Meadow Park has also given Knighter another chance to finally win over the City fans who have doubted him in the past, perhaps unfairly, for his connections to Ch@#tenham Town as well as the rumours of stirring behind the scenes during Keith Gardners big-spending arrival at the club. No-one present at City in these less rich times is here for bad reasons and Knight's commitment has been self-evident, while his public pronouncements since his elevation to the management have generally struck the right chord and he seems to provide a steadying presence for the younger players around him.

Knighter has had a long and illustrious career in local non-league football, playing in some of City's most attractive sides in recent years as well as winning a truckload of silverware during his spell at Whaddon Road, something that City fans are only slowly beginning to forgive him for! Knight began his career as a youngster at Ch@#tenham but was soon scouted by Reading. His promise was confirmed with caps at England youth level and when he scored on his full debut for Reading at Southend it looked as if a promising professional career beckoned, with a move to Sunderland only falling through due to a badly timed hernia operation. The dream went sour though and Knight was persuaded to a first brief spell at Meadow Park by Brian Godfrey before being offered a contract in Holland with Veendam. That adventure saw him play somewhat bizarrely as a defender for much of his stay, before returning to England and linking back up with former Ch@#tenham boss John Murphy, by now enjoying success at Trowbridge Town.

The Murphy link saw Knight return to Gloucester when Murphy took the helm at Meadow Park, and this spell saw him play some of the best football of his career. He was always quick footed and sharp in the box, capable of the quick passing and incisive attacking that terrified defenders as City scored stacks of goals without ever quite managing to convert them into Trophies. That wasn't something that afflcited Knight as he found his way back to Ch@#tenham to play a crucial part in Steve Cotterill's amazing transformation of the evil Robins from Southern League to Football League. Knight played a crucial role in both their Trophy and Conference title winning sides, but the return to League football was too late in his career and he spent several seasons touring a whole host of local clubs before heading back to City.
| | |
| --- | --- |
| Keith Knight | sponsored by Tigers by Camel Train |
| | Sponsor your favourite current City player for £50: Contact Trevor King. |