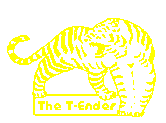 We welcome all contributions to the T-Ender. Please send any material for the site by
email to the address above.

Disclaimer
The views expressed on these pages are not those of Gloucester City A.F.C., its directors or officials, or of any other company mentioned. Neither do they represent the official views of the Gloucester City Supporters' Club or its committee.
While we make every effort to ensure information placed here is accurate we do not accept responsibility for errors that may occour. If you do find a mistake please let us know.

All pictures and material unless otherwise stated are the site's own and is
© www.t-ender.co.uk
All material may be reproduced with permission and appropriately attributed.
Saturday 31 March 2007

British Gas Business Southern League Premier
(match 35)

at Grove Park, Halesowen.
Halesowen Town

1-1

Gloucester City

Scorers:

P.Devlin (82)

Scorers:

M.Richards (26)


| | | |
| --- | --- | --- |
| J.Dormond | 1. | R.Johnston |
| R.Warner | 2. | C.Thompson |
| D.Hamilton | 3. | A.Allard |
| © L.Williams | 4. | N.Mustoe © |
| N.Amos | 5. | J.Reid |
| S.Pierpoint | 6. | L.Tomkins |
| A.Cowley | 7. | A.Sykes |
| G.Sheldon | 8. | M.Richards |
| P.Devlin | 9. | J.Cox |
| J.Palmer | 10. | S.Griffin |
| S.Forsdick | 11. | D.Wilkinson |
| | Subs | |
| (for 5, 65) G.Knight | 12. | A.Harris |
| D.Haywood | 14. | M.Shaxton (for 9, 76) |
| S.Dowdall | 15. | S.Ellis |
| (for 7, HT) J.Brown | 16. | T.Webb (for 10, 84) |
| (for 8, 68) A.Farrell | 17. | J.Morse |

Bookings:

Halesowen: none
City: none

Dismissals: none

T-Ender City MotM: Marc Richards - faded a little, but impressive first City start with intelligent composed passing and good aerial presence.

A gutsy and hard working City performance was rewarded with a valuable away point at promotion chasing Halesowen, but after taking a lead through a fine glancing header from Marc Richards the travelling Tigers will feel they could have taken more from the match. A revived Halesowen team threw everything they had at us in the second half and it looked as if luck, solid defending and some inspired goalkeeping could be enough to take all the points. However a late free kick took a huge deflection into the net, leaving us with a draw and doubtless regretting a missed Cox chance and that Wilko's thunderbolt second half drive onto the bar hadn't been half an inch lower.

The first half was disjointed, with City having only sporadic possession but doing well to disrupt and unsettle a Halesowen side who seemed unable to find the final pass to unlock our defence. New Yeltz danger man Jermaine Palmer looked lively, but for all of his strength he was carefully monitored by Lyndon Tomkins. City were finding few chances, but Sykes almost caught the keeper off his line with a clever sliced lob from distance that fell wide. Wilkinson could have done better, being found in space on the right after a good move involving Sykes, Mustoe and Griffin. Unfortunately wilko didn't get hold of the shot and his effort went wide across goal.

City took the lead with a fine goal, but there was an argument we should never have been given the chance. Sykes played through a fantastic ball that Richards looked like he would reach ahead of the covering defenders, but as he did so his ankles were clipped and the ref pulled play back for a free kick when it looked City had been denied a clear advantage. As it was, it didn't matter. Mustoe angled in a wonderfully flighted ball into the path of Marc Richards who got across his marker to glance a finely judged header in off the post. We were told he would score goals from midfield, and to get one on your full debut ain't bad.

City faced a reinvigorated home side in the second half and with the defence under pressure they hardly needed keeper Ray Johnston to suffer one of those Robinson moments. His kick to clear an overhit pass turned into a spectacular airshot and sub Junior Borwn was first to react. Johnston did well to recover himself and made life awkward sprawling all over the forward's feet, but even so it was a huge let off when his shot hit the outside of the post with the City goal gaping invitingly.

Halesowen looked a lot more dangerous now and Ray Johnston soon got several chances to redeem himself with some of the best shot-stopping he's produced since joining the club. City were conceding a string of corners and first Nick Amos came up from the back to thump a header at Johnston, then Brown was foiled again as his header from a short corner and a deep cross was palmed over the bar with a fine stop from close range. Perhaps the most vital save came when Palmer finally managed to shrug off Lyndon only to see his shot smothered by Johnston as he raced off hisl ine.

Good to see Wilko recovering some form and getting his confidence back, it's been too long since we've seen him let fly with one of his sudden rockets from distance but he did here and it almost won the game. A good ball from Sykes found Dave Wilkinson in field in some space, and he ambled forward before suddenly unleashing a 25 yard screamer that saw the home keeper caught all at sea as the ball flew past him but unfortunately also cannoned back off the cross bar.

A second City goal would have sealed the win and it looked as if had arrived. A clever pass from Richards put Jimmy Cox through in front of goal. The striker seemed to have got the ball down well but although the keeper did well to cut his angles the forward really should have done better than to prod the ball into the advancing keeper. Even then the rebound found its way to Alex Sykes and his follow up shot seemed goalbound before Yeltz's Stuart Pierpoint managed to scuttle back and head the ball off the line and away. With the game so finely poised it was a big chance that had been rather fluffed.

Other teams may have believed they'd shown enough guts and had enough luck to suggest they'd hold on for the win, but City know better than to count the points before the final whistle. The Brummie side did force an equaliser, but it was ultimately a little fortunate. Lyndon Tomkins was a bit hard done by to have been judged to have held down a Halesowen forward as they attacked, but the ref gave a free kick on the edge of the box. Yeltz turned to former Blades and Birmingham City veteran Paul Devlin, and his shot took a huge deflection off the City defensive wall to leave Ray Johnston wrong footed and the ball nestling in our net. It was Devlin's first for the home side and could be vital for their play-off hopes.

City faced a worrying final few minutes as the home team tried to grab all the points, but City held on to take a point that was the least they deserved for a soild performance. Even so they were nervous times, Allard had looked comfortable in the first half but the introduction of Farrell down the left caused him problems and several City players were drafted over to halt his progress. City also survived an enthusiastic shout for a penalty from the Halesowen players and fans as Tomkins made a tumbling block in the box to cut out a cross. The ref wasn't interested, and City will not be too disappointed to leave The Grove with a point, but had those second half opportunities been converted it could have been an even better result.

T-Ender Match Snaps

| | |
| --- | --- |
| | |
| Wilko gets a straight arm welcome from Yeltz's Gary Sheldon. | Cox finds the door swinging closed as he races after a Sykes pass. |
| | |
| Could it be any more perfect as City defend a lead in the Spring sun. | The Yeltz keeper grabs on to a second half Sykes corner. |





Team Selection:

City's plans were thrown into disarray by the loss of three key defensive players. Tom Hamblin and Luke Buttery both missed out through injury whilst Danny Hodnett was again recalled by Worcester City to languish on their bench. That forced Chris Thompson into again deputising as a makeshift centre-back, Reid stayed at right-back and Alex Allard came in at left-back. City also lost energetic midfielder Tom Webb as a hamstring problem failed a late fitness test, handing a full debut to Marc Richards in the centre of midfield. The reshuffle left Tim Harris also opting to return to a two-pronged attack, with Jimmy Cox recalled to partner Griffin.

TBBM Said:

"He's rubbish he is. The whole team's bad but he's completely rubbish."
3:12pm - The home fans get behind their team - who are 4TH! Perhaps the accents just made for whinging.

Tactics Board:

Halesowen may have been a little lacklustre, but a patched together City side also deserve some credit for halting the Halesowen wingers who caused us so much pain in the 3-1 defeat at Meadow Park back in August. Jamie Reid had perhaps his best game yet as a full-back, while Allard stuck to his task and looked comfortable until the arrival of Aaron Farrell from the Yeltz bench. Halesowen were denied any width, and as a result they struggled.

Anorak Corner:

He may have come off the bench for only a fleeting appearance but this was the game that Tom Webb caught up with Adie Harris as the player witrh the most City appearances in the current first team squad. Both players have now amassed 261 games, you'd imagine Webb could well edge ahead at Merthyr on Tuesday if his hamstring problem clears.

T-Ender Verdict

City would have gladly taken this point before kick-off but by the final whistle will feel a little disappointed not to have nicked more. This was a well disciplined and hard-working City performance that spoke of a side willing to put in the effort, but also now showing much improved defensive rigour. Even with several key defensive players missing we still got numbers behind the ball throughout, even when the home team raised their game in the second half. That also shows Tim Harris squad building has managed to add some depth to the club's resources. A draw was probably a fair result on balance, but for the second match running we failed to find the net when a good chance presented itself. We're not creating enough openings to afford such wastefulness, and if we have serious pretensions of challenging in the top half ourselves next season the finishing must be more clinical.

Highlights Elsewhere:

Former City loanee Chris Holland continued Bath City's march to the title but his solitary goal was crucial at help the Romans undo the Centurions with a 1-0 win at vulnerable looking Cirencester. They'll be relieved that of the sides below them only Wealdstone managed a point with a 1-1 draw at home to Mangotsfield. However Cheshunt continued to pull away from the scrap at the bottom with an impressive 3-1 win at Clevedon, Lloyd Opara and Darryl Cox again on the scoresheet.

The play-off battle continues to look congested with Chippenham coming back from a half-time defecit to beat bottom club Corby 2-1 thanks to a late Iain Herring goal. Maidenhead's late charge for the play-offs continued with a 3-0 demolition of Hitchin, while Team Bath and Stamford fought out a goalless stalemate. Two other contenders lost, Hemel spectacularly losing 4-1 at Merthyr while a Jamie Mudge penalty was enough to give Tiverton a valuable home win 1-0 over King's Lynn.

Other Match Reports:

Gloucester Citizen match report
Tiger Roar post-match Tim Harris audio interview

Further Reading:

BGB Southern League Premier Results & Website
BGB Southern League Table
| | | | | | |
| --- | --- | --- | --- | --- | --- |
| Referee: | S.Pardoe (Crewe, Cheshire) | City League Pos: | 12th (-1) | City Form: | DLWDDL |
| Ref Watch: | 6 - Seemed to miss things but didn't do us any harm in doing so. | Attendance: | 421 | | |
| Conditions: | Bright and breezy with showers | Lorry Score: | 2 | Match Report: | by t-towel |
Work commitments mean that we are keen to obtain other match reporters willing to provide details on some City matches. All text can be supplied by email, with no need to worry about web design or formatting. If you are interested please contact the T-Ender.