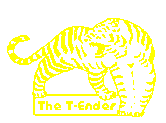 We welcome all contributions to the T-Ender. Please send any material for the site by
email to the address above.

Disclaimer
The views expressed on these pages are not those of Gloucester City A.F.C., its directors or officials, or of any other company mentioned. Neither do they represent the official views of the Gloucester City Supporters' Club or its committee.
While we make every effort to ensure information placed here is accurate we do not accept responsibility for errors that may occour. If you do find a mistake please let us know.

All pictures and material unless otherwise stated are the site's own and is
© www.t-ender.co.uk
All material may be reproduced with permission and appropriately attributed.
Saturday 24 March 2007

British Gas Business Southern League Premier
(match 34)

at Hardenhuish Park, Chippenham.
Chippenham Town

1-0

Gloucester City

Scorers:

S.Seavill (90+2)

Scorers:

-


| | | |
| --- | --- | --- |
| C.Snoddy | 1. | R.Johnston |
| R.Adams | 2. | C.Thompson |
| K.Halliday | 3. | D.Hodnett |
| K. Metitiri | 4. | N.Mustoe © |
| A. Stanley | 5. | T.Hamblin |
| © I.Herring | 6. | L.Tomkins |
| S.Allison | 7. | A.Sykes |
| K.Holly | 8. | T.Webb |
| D.Gilroy | 9. | J.Reid |
| S.Seavill | 10. | S.Griffin |
| C.Knight | 11. | D.Wilkinson |
| | Subs | |
| (for 7, 59) A. Griffin | 12. | A.Allard (for 9, 65) |
| (for 9, 90+3) O.Price | 14. | J.Cox (for 5, 51) |
| T.Etheridge | 15. | M.Richards (for 11, 64) |
| O.Bryan | 16. | M.Shaxton |
| G.Eyre | 17. | J.Morse |

Bookings:

Chippenham: D.Gilroy (late tackle 26)
City: none

Dismissals: none

T-Ender City MotM: Lyndon Tomkins - impressive in the centre of an improved solid City defence, making a couple of goal saving blocks.

An often drab but always fiercely contested encounter ended with City's fans again tasting the bitter sickening taste of last minute defeat thanks to a solitary Sean Seavill strike deep into injury time. It was a result that kept Chippenham's play-off hopes alive and finally ended our own, but it was also a performance that showed that this City side has a durability and spirit about it that looked unimaginable just a few weeks ago. It was a game of few chances, mainly thanks to some well drilled defending from both teams. Whilst City were out of luck as our few chances all went astray Chippenham persevered and saw their numbers come up to finally steal the game.

The match had done little to suggest it would have an explosive finish as neither side were able to break down the opposition defence. The first half was especially drab with City struggling to find any possession around the Chippenham penalty area. Chippenham were a little stronger but were equally struggling to find any clear cut openings. Even without exerting any pressure on him the Chipp keeper was made to look fragile with an early dodgy punch, but we failed to really test him for the rest of the game. Our only real opening in the whole first period came when Griff's flick put in Sykes but stretching for the ball he was only able to scuff a shot goalwards. Our best work was at the other end, Lyndon Tomkins making a fine stretching tackle on Seavill and Webb forced to make a crucial header off the line at the far post to prevent Gilroy finding the net.

The second half was a slightly more open game as a frustrated Chippenham side pushed forward in more numbers and left some gaps for City to exploit. The Chipp defence was regularly forced to trip or block off City runs and from one free kick given for a foul on Griff Webb blazed a spectacular volley wide. The best City chance came to sub Jimmy Cox after Wilko's sliced pass fell to Sykes and his incisive pass inside found Cox whose clever run carried him straight past two defenders and through on goal. With all the tricky work done the striker seemed to shape well to shoot but then sliced his shot high and wide. In a game of few chances it was a missed opportunity that we could ill afford.

With Hamblin off the pitch the City defence was being forced to work harder, and twice spectacular defensive interventions were needed to keep the match goalless. Tomkins made a thumping diving header to prevent a 30 yard Charlie Knight drive hitting the net, and then a few minutes later debutant City sub Marc Richards made another important header to divert a further long distance strike wide of the post. For all their effort though, the home team wasn't getting into the box with any regularity.

The more the home team became desperate the more likely it looked as if City could nick the win. A clever Griff ball set Cox free down the left wing but another superb blocking tackle by Kevin Halliday halted his progress. The former Ciren defender impressed all afternoon and looked the best player on the pitch. His timing was off a few minutes later though when he cynically tripped Webb as he got free, but again the ref seemed determined to keep his cards in his pocket. Alex Sykes later hit a speculative 40 yard lob over the keeper but watched it drop just wide. With only a few minutes left Richards almost marked his debut with a winner, getting his head to an Allard throw at the near post but glancing the ball inches wide.

City seemed to be cruising to a hard earned point but deep into injury time disaster struck. Allard seemed to have done well to clear a dangerous ball down our right, but a long throw from Chipp captain Ian Herring caused danger. Some how the ball was allowed to carry to the near post where it was only half cleared and the ball fell to winger Sean Seavill drilled a fierce shot low through Thommo's legs to find the net. It was a cruel twist to a match that neither side really deserved to win, and left us again trailing dispiritedly out of Hardenhuish with nothing to show for the journey.

T-Ender Match Snaps

| | |
| --- | --- |
| | |
| Hodnett gets forward down the City left flank. | Webb also tries to come to terms with an unfamiliar left touchline. |
| | |
| Griffin loses out in the chase to Chipp's debutant defender Kes Metitiri. | City sub Marc Richards sees his header fly just wide of the post. |





Team Selection:

Injury to Luke Buttery forced City to reshuffle slightly, Danny Hodnett crossing flanks to fill in at left-back and Reid continuing at right-back. Griff came in as a lone striker up front, with Sykes playing in a free forward role meaning Wilko continued in midfield and Webb shifted over to an unfamiliar spot on the left wing. New arrival Marc Richards took his place on the sub's bench. Chippenham were missing two key players through suspension, one being Iain 'kick 'em, bite 'em' Harvey, another being former City favourite Paul Milsom. They gave a debut to Kes Metitiri, a defender who had been given a torrid time by Whittington when playing for Team Bath against City back in October.

TBBM Said:

"Herring: beaten by girls and now beaten by Dave Wilkinson".
The former Swindon man sees super Wilko stroll past him in midfield.

Tactics Board:

I do have moments where I feel Tim Harris could be beyond reproach, but these days even God gets a tough ride so this might be a game to ask a few questions. Whilst City were a little toothless up front the defence looked impressively solid, so it was a little disconcerting to see Tom Hamblin leaving the pitch - apparently in a tactical swap to bring on a striker. City carried on to defend with vigour, but looked far more stretched after he went off and that late gutting goal may just have been cut out had a second towering centre-back been there to get in the vital block. City also ended the match with the left sided Allard at right-back and usual right-back Hodnett at left-back. To me we look at our strongest when we have players in their most comfortable positions - but maybe not?

Anorak Corner:

City have lost every single league visit we've made to Hardenhuish Park, now amounting to a depressing four defeats. The only bright spot was that memorable 5-3 win back in October 2000, but back then Chippenham were still in the Western League and we were playing a FA Cup replay, Jimmy Cox amongst the City scorers.

T-Ender Verdict

There may be no need for panic from this result, but a few interesting conclusions can be drawn. City could easily have snatched the win with as much justification as the home team, but in truth neither side really did enough to fully deserve a win out of a fairly drab and disapointing encounter. The defeat finally ends even the faintest embers of our won play-off hopes, but the fact that a very ordinary Chippenham side are still in contention does offer some consolation in showing just how slight the necessary margin of improvement may be for us to do better next season. The concern for Tim Harris may be that we rarely looked capable of exerting real creative attacking pressure and a bit of Alex Sykes magic looked the most likely source of a goal. The return of Jason Welsh might just alter that slight lack of a killer punch.

Highlights Elsewhere:

Bath City retained their lead at the top with a 3-1 home win over Corby but the real competition is for the play-off spots behind them. King's Lynn came from behind to win 2-1 at The Walks against fellow promotion chasers Hemel with Micky Frew grabbing the winner. Halesowen made the most of Stamford's 2-0 home defeat to Mangotsfield to take their place in the top 5, winning 5-3 over Wealdstone with a debut hatrick from Jermaine Palmer.

At the other end Cirencester's youngsters fought hard but still crumbled to a 1-0 home defeat against second placed Team Bath. Cheshunt managed a 4-2 win at Northwood, with goals from strike parnership Lloyd Opara and Darryl Cox enopugh despite two last minute goals from the home team. The Ambers are now out of the bottom four, and things look grim for Ciren who are now 19th, with both Wealdstone and Corby having games in hand that could see them overhaul the Cotswold strugglers.

Other Match Reports:

Chippenham Town website match report
Gloucester Citizen match report
Tiger Roar post-match Tim Harris audio interview
Wiltshire Gazette & Herald match report

Further Reading:

BGB Southern League Premier Results & Website
BGB Southern League Table
| | | | | | |
| --- | --- | --- | --- | --- | --- |
| Referee: | K.Pike (Gillingham, Dorset) | City League Pos: | 11th (-1) | City Form: | LWDDLW |
| Ref Watch: | 6 - Low key but could have legitimately got involved more to stem the elbows and trips. | Attendance: | 482 | | |
| Conditions: | gloomy but dry | Lorry Score: | 1 | Match Report: | by t-towel |
Work commitments mean that we are keen to obtain other match reporters willing to provide details on some City matches. All text can be supplied by email, with no need to worry about web design or formatting. If you are interested please contact the T-Ender.