Universally known as Syko in local football Alex Sykes returned to City in June 2006, this time on a permanant deal having spent a month on loan with us in the previous season. A wide player of proven quality who has yet to really show his best since joining City but in flashes has shown some signs of the skills that earned his reputation as having one of the sweetest left feet in the division. Provides a constant danger with a range of passing, crosses expertly and also provides a threat from dead ball situations. Is perhaps not at his best when asked to defend and has been caught out a few times this season when pressed into service in the unfamiliar role of left-back, but has chipped in with some vital goals and should be able to work his way back into form. One of Sykes' more impressive boasts is his continuing presence in the England international Futsal squad over the last couple of years, including captaining the side and grabbing a hatrick against Cyprus in the May 2006 tournament held in Sheffield, a match that ended in a 5-5 draw and the only time to date the England side has avoided defeat. The small sided non-contact game demands high levels of technical skill and ability - so Syko is officially actually quite good, even though England struggle in a format of indoor football hugely popular in Europe but less well provided for in the UK.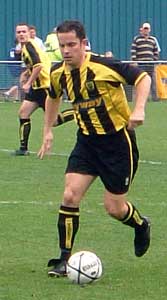 Sykes previous spell with the club may not have given him much opportunity to show City fans his best form, his defensive frailties often exposed by a left wing-back role. The lack of sparkle might also have been affected by off the ball drama in the final weeks of Chris Burns' reign at Meadow Park, exacerbated as his month on loan in December 2005 had been intended to help him regain match fitness after a long lay off with a groin injury. Even then Sykes seemed enthusiastic about a permanant move to Meadow Park, but that was never likely as even his brief loan spell had been funded by fans' donations. After six rather disappointing games for City the player was back with Bath City, although the T-End got a better chance to appreciate his qualities a few weeks later when he returned in the Bath City side and scored a screamer in their 2-0 win. Despite playing an important role in the Romans' charge to the promotion play-offs he was perhaps surprisingly off-loaded from Twerton Park in May 2006, to be immediately snapped up by Tim Harris, eager to add some proven experience to the Gloucester squad.
Sykes began his career with Mansfield Town but turned down a professional contract to go to University, later settling in Cheltenham and qualifying as a teacher. His football career was resurrected in the Hellenic League with the now defunct club Endsleigh before moving to Forest Green for his first of three spells with the Nailsworth outfit, returning there after a spell with Nuneaton Borough. Syko became one of Forest Green's longest serving players, scoring 50 goals in over 250 games which saw the little club on the hill make an improbable journey into the Conference. He was finally axed at The Lawn in early 2004 after a disasterous start to the season saw a change in manager, and quickly snapped up by Bath City.