This was by no means a classic City performance but the delight amongst players and the City fans said everything about what an important win this was for the club. Suddenly City are in the play-off positions and despite being hugely lucky to escape with a win this was a match where we had to dig deep to last out against the Banbury onslaught. What made that all the more impressive was that it was done with ten men after Lyndon Tomkins saw red, and done having let in one goal when the memories of last Saturday's terrible capitulation at Eastleigh must still have been screaming for attention from the back of City minds.
The match had barely started when City suddenly found themselves in the lead. The Banbury players certainly hadn't warmed up to the game as it was a disastrous misunderstanding between Wayne Blossom and Matt Hayward that presented the ball to Michael Whittington on the edge of the box. The on-loan striker hasn't quite recaptured the live wire deadly accuracy of his previous loan spell at Meadow Park but this was a moment to remind his employers he is still a class act. He shuffled the ball out of reach of the recovering defender before unleashing a sharp precise bullet shot into the near corner. Keeper Alan Judge wouldn't have got it in his Oxford United top flight prime, never mind now in his mid-40s.
Going ahead rarely seems to make life easy for City sides and how we then managed to survive to half-time without at least conceding an equaliser was a bit of a mystery. First City survived a scare as we could have found ourselves down to ten men. Webb had caught Andy Baird with a tackle that saw the Banbury striker kick out at the grounded Gloucester player, but Tom Hamblin was quickly on the scene and seemed to defend his team mate with a downward punch at Baird's chest. Fortunately the ref can't have had the same view of the incident as the City fans and both Hamblin and Baird escaped with yellow cards rather than red.
City then continued to ride their luck as Tomkins survived an enthusiastic penalty appeal from the home fans as the defender appeared to have pulled back a Banbury player trying to reach a low cross, and a few minutes later the City cross bar was humming from a Baird snap shot that had left Jacob Giles standing. More was to come as a good Banbury move down our left ended with a deep cross to the far post where Baird produced a strong downward header which Giles did well to reach and save by pushing the ball over the bar. Minutes later a similar move again found a Banbury player unmarked as he rose to meet a deep cross. This time it was Howard Forinton who presented the danger but the normally deadly forward put his header wide.
In the second half City enjoyed more of the play and managed to put together some far better attacking moves with more numbers in the box. Banbury's defence had looked vulnerable throughout the game despite their chances at the other end, and now they were starting to make mistakes under pressure. Judge did well to get his hands to a Hamblin header under the bar from close range and then Banbury again gifted City a great opportunity. Again it was the thoughtless Blossom who was overly careless with his passing and his loose ball gifted Whittington with another opportunity to run at the Puritans back line. It looked as if he'd missed the chance to shoot and with the ball pushed wide right to Webb the danger seemed to be receding, but Tommy Kinch wasn't able to keep his head and he tripped Webb even though the City player seemed to be going too wide to cause real problems. It was about as clear a penalty as you could ever see and Jody Bevan made sure the spot kick was equally emphatic.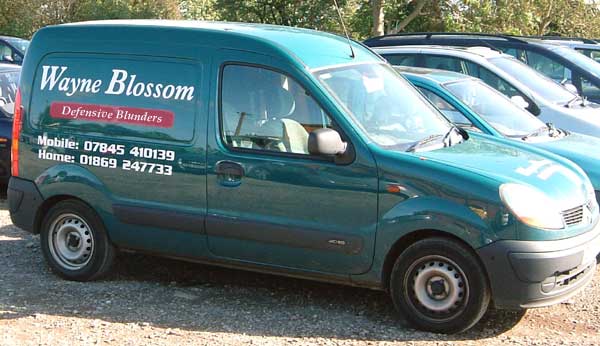 There was no time to rest for the city players though as we quickly turned attack into defence with bowel quaking ease. We could have had further penalty claims with Webb and Wilson both going to ground in the box to varying degrees of conviction. However the City lead was soon halved as City failed to clear a corner and allowed Jon Gardner far too much time on the edge of the six yard box as he turned and smashed the ball into the net.
If City nerves were jangling now worse was to come. Some how a promising move around the Banbury box saw Bevan and then Fowler contrive to loose possession and the home side went on the attack with a long ball into the City half. Keeper Jacob Giles seemed to have cleared the danger but then put his clearance straight at Banbury's George Redknap, and suddenly we were wide open. The ball moved on to Baird, but his time on the ball was limited as Lyndon Tomkins raced over and clattered into the Banbury forward. The ref was on the scene pretty quickly and had no hesitation in showing red, actually a harsh decision as Lyndon had been neither the last man nor was it actually a dangerous or vicious tackle - which isn't to say it wasn't both clumsy and cynical. Strangely Baird got to his feet as soon as the red card had been shown...
With that awful implosion at Eastleigh only a week previously you would have been a very optimistic City fan to think we would last out more than 20 minutes defending a one goal lead with ten men. But we did - the difference being this time some of our key leaders stuck to the task. Chris Thompson was imperious as a makeshift centre-back, putting in a string of tackles and interceptions. Mustoe was also a central figure with some calming moments of class - one of which was too much for Jon Gardner who was booked for a shocking tackle as he slid straight into his shin having seen the City player roll the ball past him and out of harm's way with a lovely skillful switch of direction. With the traveling T-End making as much noise as they could to keep the players on their toes some how we managed to hang on for a much needed morale boosting win. Suddenly we're in the play-off places and that Cup exit seems not quite as world shattering as it did just last weekend...
T-Ender Match Snaps

| | |
| --- | --- |
| | |
| Aaron Wilson gets a chance to run in on the Banbury defence. | Webb prepares to rejoin midfield battle. |
| | |
| Hamblin goes close as Fowler hangs in a corner under the bar. | Bevan salutes the faithful as hit spot kick puts City two up. |




Team Selection:

Tim Harris stuck to an unchanged line-up, meaning keeper Matt Bath stayed on the bench with on loan youngster Jacob Giles getting a second match between the City sticks.
TBBM Said:

"Why don't the other side always miss like that?"
Tactics Board:

For the second consecutive game Tim Harris had to reshuffle his side to hold a lead with ten men and again the boss got it spot on. First Reid came on to allow Thommo to move into the centre of defence, and the City youngster made a huge contribution to the win with a disciplined stint at right-back. Then Tustain came on to join Bevan up front as City went 4-3-2 and let the two big forwards defend from the front line as they chased every long ball to give some relief to the defence..
Anorak Corner:

The sendings-off of Webb and Tomkins are the first time City have had players dismissed in consecutive games since March 2003. Back then Chris Burns and Gary Marshall saw red against Stourport Swifts and Atherstone United in the space of three short-fused days. They were amongst a shaming 9 red cards picked up by our ill disciplined Tigers in a long hot season.
T-Ender Verdict

A win at the side lying 4th in the table is impossible to quibble with. City can still play a hell of a lot better than this and we rode our luck for long periods of the match - but Tim Harris will be delighted his side are showing more bottle and togetherness. If last Saturday's FA Cup exit was all about mental fragility, this was about spirit and guts.
Highlights Elsewhere:

This was the weekend where despite the table remaining fairly tight you can start to see a few leaders emerging in the SLP. King's Lynn produced a second-half demolition of Mangotsfield to win 3-0 and still head the table, while Merthyr retained their unbeaten status and added to Chippenham's miserable run with a 1-0 win at the Wiltshire club. Halesowen are still going well too, their 4-2 win over Cirencester helped by a Matt Lewis hatrick. Bath City may be struggling at home but a Lewis Hogg brace earned a 2-0 win at Cheshunt and the Romans will still expect to be amongst the top runners once they get that first win at Twerton Park.