Whittington is a livewire striker who has the speed and sharp movement that will always trouble defenders. City fans will be amazed and delighted in equal amounts at the turn of events which has seen such a high quality goalscorer arrive at Meadow Park, his signing in June 2007 after being released by Ch#!tenham Town is a huge vote of confidence in the club's future and provides hope that City can try to compete at the top end of the Southern League in the coming campaign. Whitts is well known to the City fans after three previous loan spells at the club, his proflific scoring rate doing much to cement his reputation. However it is his constant effort and bravery, as much as his pace and crisp finishing that has endeared him to the T-End. Much will be expected of him over the next few months, but the excitement will be justified if Whitts can deliver what his talents promise.
Has sharp movement that gets him an extra yard of room and has shown he has both a fierce shot and at his best almost nerveless finishing. His scoring rate ensures even the most partisan Tigers fan quickly manages to forget his Whaddon Road past, but not only did Whitt finish well he also impressed with his bravery in withstanding some very physical SLP defending and his consistent effort and work rate was unexpected from a loan player. Even after injury and when having left the club Whitts was seen cheering his team mates on, from the T-End, earning extra City fandom points even if his dress sense is distinctly dodgy. It would be fair to say his ability seemed to make it unlikely he would ever feature regularly in City colours at SLP level, but other's misjudgment is our good fortune and his arrival is fantastic news. Meadow Park should be a good showcase for his talents, and whilst attracting attention of professional clubs he will hopefully fire the goals to spark promotion dreams.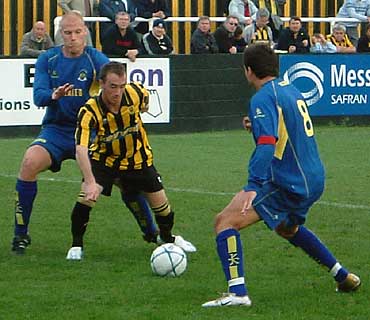 Whittington was a prolific goalscorer at youth level and the striker seemed set for a glittering career at Whaddon Road, but surprisingly never seemed to fully convince Robins' boss John Ward. Whitts was initially signed by Tim Harris on loan from despised local rivals Ch#*tenham Town in January 2006 as one of his first signings as the new Meadow Park boss. Whitts quickly established himself as a City star with some vital goals to help the club move out of relegation trouble with his seven goals helping the club embark on a crucial unbeaten run. Unfortunately his short loan spell came to a premature end with a knee ligament injury sustained in a collision with the Yate goalkeeper whilst scoring his second goal of the match. He may have paid a high price for his time at City but at least it did earn the teenager a professional contract with Ch#*tenham, apparently having dispelled fears he could not perform against stronger and bigger players. Such was his popularity at City that you hoped he would make the breakthrough into League football - even at the team he was with.
Whitts apparently made quiite an impact in the Ch#*tenham reserves, but his squad number of 29 suggested where he fitted in the pecking order. Having failed to make the break into the first team the young striker came back for second and third loan spells with City during the autumn of 2006, adding a further six goals to his City tally and featuring in the Tigers' FA Cup campaign and a memorably accomplished performance to help overcome Margate 1-0 in the FA Trophy. Despite seeing his team struggling in Division One Whitts didn't get a chance in the first team and instead further non-league loan spells followed at Mangotsfield and Weston. At the end of the season there was no renewal of his contract at Ch#!tenham, and surprisingly no other offers from pro clubs. City fans will be delighted though, there is a quiet confidence at Meadow Park that the boy really is a bit special.