Jason is a big bustling target man previously with Merthyr Tydfil and Cwmbran Town. He's been described by City boss Tim Harris as the classic old-fashioned centre forward, and certainly has the height and strength to lead the line. Welsh has impressed with some really solid performances already this season and can clearly both score goals and create chances for others with his knock downs, and has a far better touch and control than may be expected of a big target man. The big Valleys boy can also play in defence when required, a useful flexibility in a relatively small squad. Has been very unlucky with injuries in his short time with the club having already missed several weeks with a knee ligament strain and a shoulder problem.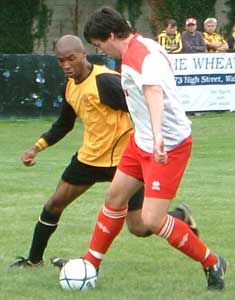 Welsh's height and strength certainly make us a much more robust attack able to withstand the more physical attentions of the Southern League defences. Wrote himself a footnote in City folklore with a gripping man of the match display in the FA Trophy replay against Tiverton. Having already scored one Welsh looked to have grabbed a dramatic late winner in front of the T-End at the end of extra time - only to promptly dislocate his shoulder only a heap of congratulatory team mates. As Jason was helped away for a night at the GRH Tiverton levelled, only for City to fight back to win on penalties. It's the third time Welsh has had his shoulder pop out, but apparently he's hoping to postpone surgery until the summer. Brave or daft?
Welsh was first signed by Tim Harris for Merthyr, bringing him from Welsh Premier League side Cwmbran Town where he had spent several years and been a losing Welsh Cup finalist, scoring in a 2-2 draw but then missing one of the spot-kicks in the decisive penalty shoot out. Harris played him up front, but Jason also played in defence for his successor at Merthyr after Harris left for Meadow Park. However he has returned to his preferred string role for the Tigers after Harris bought him across the border to join him again at Gloucester in a double swoop that also saw Merthyr captain Mike Fowler sign at City.