Tim Harris returned to Gloucester City in January 2006 to take a job that he'd long aspired to. His reputation as one of the best managers in the game at this level has only been enhanced in his short time at Meadow Park where fans of the club cannot fail to have been impressed by his enthusiasm and dtermination. A good coach with a sharp eye for local talent, he has not been afraid to show the depth and breadth of his football contacts in getting City new players. His honesty and integrity have earned him a position of great respect, and he has also shown himself unafraid in taking tough decisions when it comes to dropping and releasing players who may become complacent or trade on past glories. Did an incredible job in helping the club escape relegation in his first few months at the club and fans are now more hopeful than they've been in many years that good times could be ahead with Il Mister at the helm.
Tim began his playing career as a goalkeeper, but moved on to managing at a relatively young age. It was at City where he first cut his coaching teeth, appointed as assistant to Tigers' player-manager Steve Scarrott in March 1986. After spells with other local clubs he made his reputation in a five year stint at Cinderford Town where he took the Forest club to their greatest triumphs, including two promotions and an appearance in the FA Cup 2nd Round. His reputation has been further enhanced with success at Newport County. Forest Green Rovers and Merthyr Tydfil.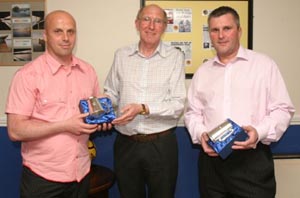 With then assistant Chris Smith being presented with 'Great Escape' award for avoiding the drop in 2006 by Supporters' Trust chairman Phil Warren.
Previously the City job had only become vacant at times when Tim Harris was already committed to posts with other clubs, but when predecessor Chris Burns resigned over New Year the Gloucester based coach jumped at the chance. His commitment to the job is evident from the simple act of resigning his manager's position with Merthyr Tydfil to move to Gloucester City, a club with a recent history of financial restrictions and a budget far smaller than Merthyr's and most others in the division. As well as his role managing the first team Harris is also expected to put some of his own funds into the club and use his extensive local business contacts to bring new investment in to assist his plans for the future. Initially Harris was supported at City by coach Chris Smith but when he left the club due to family commitments Harris brought in David Mehew as his assistant in Summer 2006.
Harris was born in Dymock and has lived and worked around Gloucester for all his adult life, now living in Churchdown with his wife and two teenage children. He played senior non-league football as a goalkeeper, starting as a youth player with Shrewsbury Town, before spells with Newport County, Gloucester City and Redditch United. His biggest success as a player came when he was part of the Ch#*tenham Town side that won the Southern League title in 1984-85.
His coaching career began at City, but it was after brief spells with Alvechurch and what was then called Stroud FC (now Forest Green) that Tim got his real first crack at management with Cinderford Town, then of the Gloucestershire County League. In a five year spell Harris helped the Foresters climb up into the Hellenic League and then on into the Southern League, winning several titles and trophies on the way. During that spell the club also managed to reach the FA Cup 2nd Round, knocking City out on their way, and in doing so putting the club briefly on the national footballing map. When he moved on he briefly spent another spell at Gloucester City, acting as assistant and scout for then City boss Leroy Rosenior.
That success took Harris to Newport County where he spent another five years, a further long spell given the often relatively short tenure of many football managers. Again Harris built a succesful side that won promotion from the Southern League Midland Division and went on to challenge for promotion from the Southern League Premier. He also enjoyed further success in the FA Cup, gaining a creditable 2-2 draw against Blackpool at Bloomfield Road. After resigning from County in 2003 he had a spell at Bath City before taking up a position as first team manager at Forest Green Rovers. He was sacked early in the 2004/5 season after his side lost their first six games of the season, but those who tend to see this as a blot on his otherwise impressive management record tend to neglect his achievement on taking over at The Lawn half way through the previous season when he guided Forest Green to Conference safety when they had seemed condemned to the drop. He has spent the first half of 2005-06 managing Merthyr Tydfil who he left challenging for a SLP play-off place, after enjoying another FA Cup run to the 1st Round that ended with a televised narrow 2-1 home defeat to Walsall.
City hope to also gain from Harris' business expertise off the field as well as from his mamangement skills on the football pitch. Already a succesful local businessman having built up a photocopying firm he has now moved into a new field supplying professional sports kit and equipment through his Staverton based business Sport Italia. The firm distributes sports kit around the country and is official distributor of Errea sportswear as worn by Middlesborough and, unsurprisingly, Gloucester City. The kit manufacturer also sponsors the Southern League Cup competition. This day-to-day business provides further links to other sports clubs that can hopefully be utilised to City's benefit.