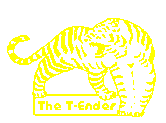 We welcome all contributions to the T-Ender. Please send any material for the site by
email to the address above.

Disclaimer
The views expressed on these pages are not those of Gloucester City A.F.C., its directors or officials, or of any other company mentioned. Neither do they represent the official views of the Gloucester City Supporters' Club or its committee.
While we make every effort to ensure information placed here is accurate we do not accept responsibility for errors that may occour. If you do find a mistake please let us know.

All pictures and material unless otherwise stated are the site's own and is
© www.t-ender.co.uk
All material may be reproduced with permission and appropriately attributed.
Ground Details
Due to Flooding in July 2007 Gloucester City have entered into a groundsharing arrangement with Forest Green Rovers and will be playing home fixtures at the New Lawn, Forest Green, Nailsworth until further notice.


Main grandstand at Forest Green's impressive Blue Square Premier standard New Lawn stadium.
Prices
Adults: £8.50
OAPs and concessions: £4.50
Wheelchair users: £4.50 (helper free admission)
Juniors: £4.50
Grandstand Seating: no additional cost
Programmes: £1.50
Raffle tickets and Golden Goal tickets are also on sale, please buy them - we need the extra cash!
NB. City increased admission prices by 50p on groundshare with Forest Green to cover additional stewarding costs.

Ground Address: New Lawn Stadium, Nympsfield Road, Forest Green, Nailsworth, Gloucestershire, GL6 0ET.
Stadium Tel: (01453) 834860 (NB. This is a stadium number, NOT the Gloucester City FC telephone).

Facilities
5,141 capacity with 2,000 seats in covered grandstand.
Covered standing (1,000 capacity) behind one goal, open standing on far side.
Segregation may be in operation for some games, visitors have own toilets and refreshment bar

For most City games turnstiles C and D will be open, at end of stand nearest to vehicle entrance. Entrance for visiting club officials only is through the main reception area. Due to stewarding costs unfortunately at the moment fans at our matches are only able to use two sides of the ground, the main stand and seating area and the covered terracing behind one goal.

Toilets, snack bar and drinks sales can all be found in the concourse under the main stand, but please note that alcohol can only be consumed in the marked area near the bar sales area. Programmes and City merchandising can also be bought in this area.

Please note that the stewarding levels and many of the ground rules are not of Gloucester City's making - but please don't make life difficult for the club by breaking our landlord's licence terms. We also think it's ridiculous your not allowed the top on your bottle of pop, and we can't explain why either. At least FGR have relented and now allowed drums in - but don't get too noisy! Also note that following law changes during the summer Forest Green have decided to make the whole New Lawn stadium a no smoking area.

Bar:
The New Lawn boasts FGR's 'Green Man' bar on the furthest south corner of the main stand. Open matchdays and normally pub hours, includes a pool table and big screen when televised sport is on. Additional drinks can be bought from the bar underneath the main stand. There is no direct access from the Green Man to the ground without passing through turnstiles.
Available delights include Fosters lager, Marstons Smooth and the Green Man also boasts a couple of real ales, which rotate as specials. The Green Man also boasts GL Cider (or Gloucester Lager) - don't be scared by the bright orange colour or a sweetness that puts fur on your teeth, this is a proper authentic local brew!
Click here for directions and travel information to the New Lawn Stadium
or visit the Forest Green Rovers website for further details on the stadium and its history.


Programme Details

Editor: Mike Dunstan
Price: £1.50
Pages: 40 (9.5 adverts)

The Tigers' Review has got steadily better and better over several seasons under the stewardship and hard work of editor Mike Dunstan. It really is a labour of love and you can see the amount of effort that goes in to keeping it fresh and informative.

Regular content includes usual articles from Chairman, Editor and Manager, physio's updates as well as news and results from the Supporters Trust, City Youth team, Ladies team, stats and news from across the Southern League and match photos.

A pretty impressive package for £1.50, and carries more content and pages than ever. The Tiger's Review was rightly recognised in 2004 when it won the best programme in the DML Western in the prestigious Wirral programme competition. Well deserved recognition for something that it is all too easy to take for granted.
Newspapers: Gloucester Citizen (weekend sports special 'Pink Un' now sadly defunct.), Western Daily Press
Radio Stations: Severn Sound (102.4 FM & 774 MW), BBC Radio Gloucestershire (104.7 FM)
Television: HTV West, Central South, BBC West.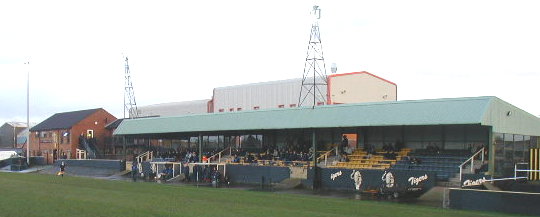 Meadow Park - Still the Spiritual Home of the Tigers
(But possibly not now at it's best. Pics below during and after the July 2007 floods)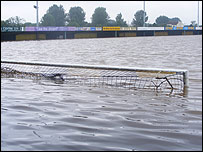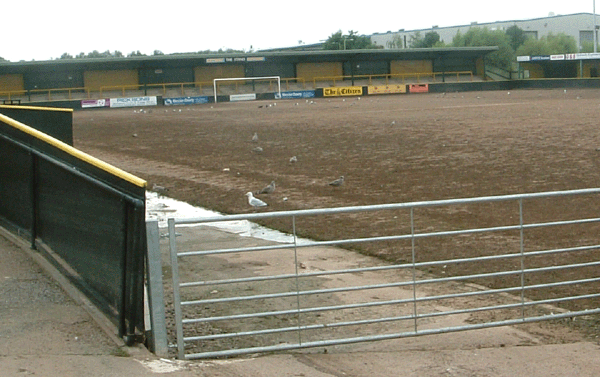 Prices
Adults: £8.00
OAPs and concessions: £4.00
Wheelchair users: £4.00 (helper free admission)
Juniors: £3.00
Grandstand Seating: £1.00 to transfer for all.
Programmes: £1.50
Raffle tickets and Golden Goal tickets are also on sale, please buy them - we need the extra cash.

Facilities
3,500 capacity with 560 seats. Most standing under cover.
(Ground really holds 5,000 but health & safety restrictions have done their damage!)
Segregation is in operation for most big games, visitors have toilets and refreshment bar.

Address: Meadow Park, Sudmeadow Road, Hempsted, Gloucester, GL2 5HS.



Refreshments & Food: The food emporium is now back next to the entrance to the main clubhouse after a final rewiring of the kitchen to stop the cooker fusing the floodlights! Terry's chilli is much missed but the food is a lot better than it was a few years ago, and offers the usual footie standards of hot dogs, burgers and bacon rolls. The bar upstairs also often has filled rolls.

Toilets: Two sets in the ground itself, good by non-league standards (i.e. they have lights!). Also further facilities in the clubhouse.

Bar: Since the closure of the old Fieldings 'People's Bar' sports and social club the only bar now is upstairs in the clubhouse. It may be a little cramped but you'll just have to get friendly, and our wonderful staff and the warm company of our supporters will make you feel comfortable. Unfortunately the beer has recently taken a real dive in choice avaiable - although you can still get draft Carling, Guinness and some terrible stuff called ????. If you're brave ask for GL cider available from the bottle -an essential to get a little bit of local flavour, but it's pretty damn orange and sweet and will put fur on your teeth!




Click here for detailed directions and further info for visitors to our fair city.